Cruising Mainsail: X-Drive Taffeta Endure
X-Drive Endure sails are made with continuous, corner-to-corner yarns made out of Endumax. Endumax is an Ultra-High Molecular Weight Polyethylene, similar to Spectra® and Dyneema® — fibers known for high strength and durability. While being stretchier than carbon, Endumax fibers stand up to abuse much better. X-Drive Endure sails give club racing performance with the durability cruising sailors require — all with a clean classic white appearance. Because these sails are made with Endumax and because they have the endurance that is required for successful cruising and shorthanded sailing, we named the new line of sails, X-Drive Endure.
According to Teijin, the makers of Endumax; it is made of a special type of UHMWPE (Ultra High Molecular Weight Polyethylene), making it the strongest UHMWPE film available in the world. It also has a higher modulus and better abrasion resistance, UV resistance, creep properties and thermal-aging performance than other UHMWPE fibers. Teijian also says that Endumax is the most sustainable UHMWPE product available, being made in an environmentally friendly, solvent-free process. As a result, the film contains no additional processing aids or solvent residue. And the thermoplastic nature of UHMWPE means that it can also be easily recycled.
Extra Durability With Taffeta
To help protect today's sails and extend their peak performance lives, UK Sailmakers can build all our X-Drive racing sails where one or both sides of the laminate is fully covered with lightweight finely-woven polyester taffeta. Not only does taffeta protect the film layer from abrasion, but it also prevents cracking of the film and reduces creasing. While taffeta doesn't add much strength, it does make sails last longer. We also offer the option of putting a layer of taffeta over the continuous loadpath X-Drive fibers only on the leech of the sail as shown below.
Taffeta is available in white or a medium grey color.
Partial Taffeta Option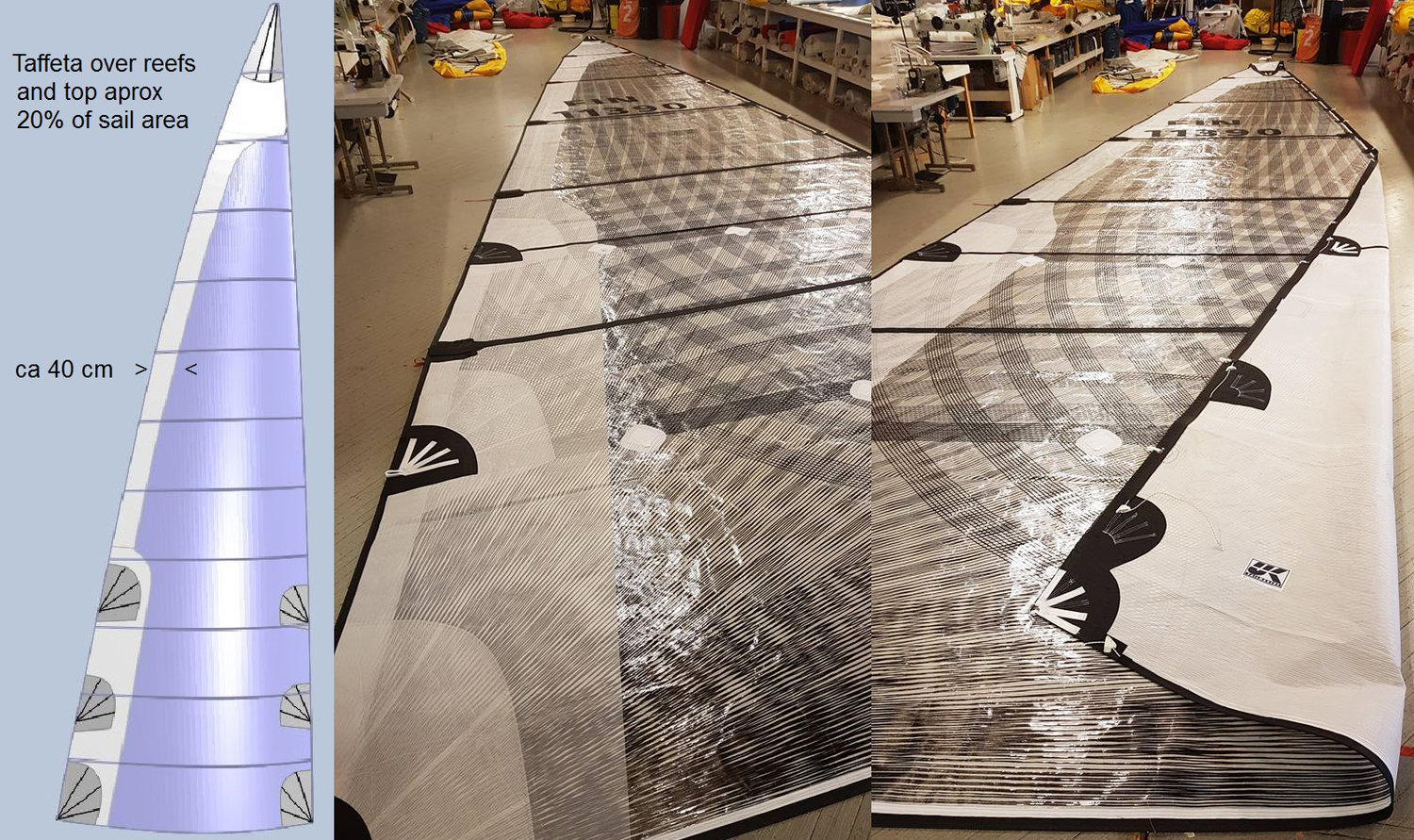 The leech of any sail benefits from having extra taffeta protection. Adding taffeta to the leech of an X-Drive mainsail reduces the destructive effects of leech flutter, luffing and flogging. Mainsails can flog in heavy air as the boat is de-powered and when the sail is being hoisted or lowered. Leech flutter happens when the leech line is not properly tensioned. The X-Drive construction method allows sailors to choose a sail with taffeta on one side of the sail, on one side and on the leech of the second side, or fully covering both sides. The more taffeta, the more protection — at the cost of more weight aloft.
UK Sailmakers will work with you to determine the right amount of taffeta to add to your sails based on your boat, the kinds of sailing you do, and your budget. Having both sides covered with taffeta makes a sail more durable, but also would make the sail heavier. UK Sailmakers offers a Partial Taffeta option to save weight and cost.
Available details
Available with:
Reefs
Loose Foot
Cunningham
Telltales
Draft Stripes
Sail Numbers
Leechline Options
Available with:
Partial Taffeta
Double Taffeta
Battens:
Powerhead
Full Battens
Furling Mains
Other Options:
Lazy Cradle
Lazy Jacks
Dutchman
Sail Cover